Transfer.legal serves a variety of needs.
Whether you need to send personal data to third party, to establish a specific date for documents or simply to send data with confidence, Transfer.legal meets all your needs.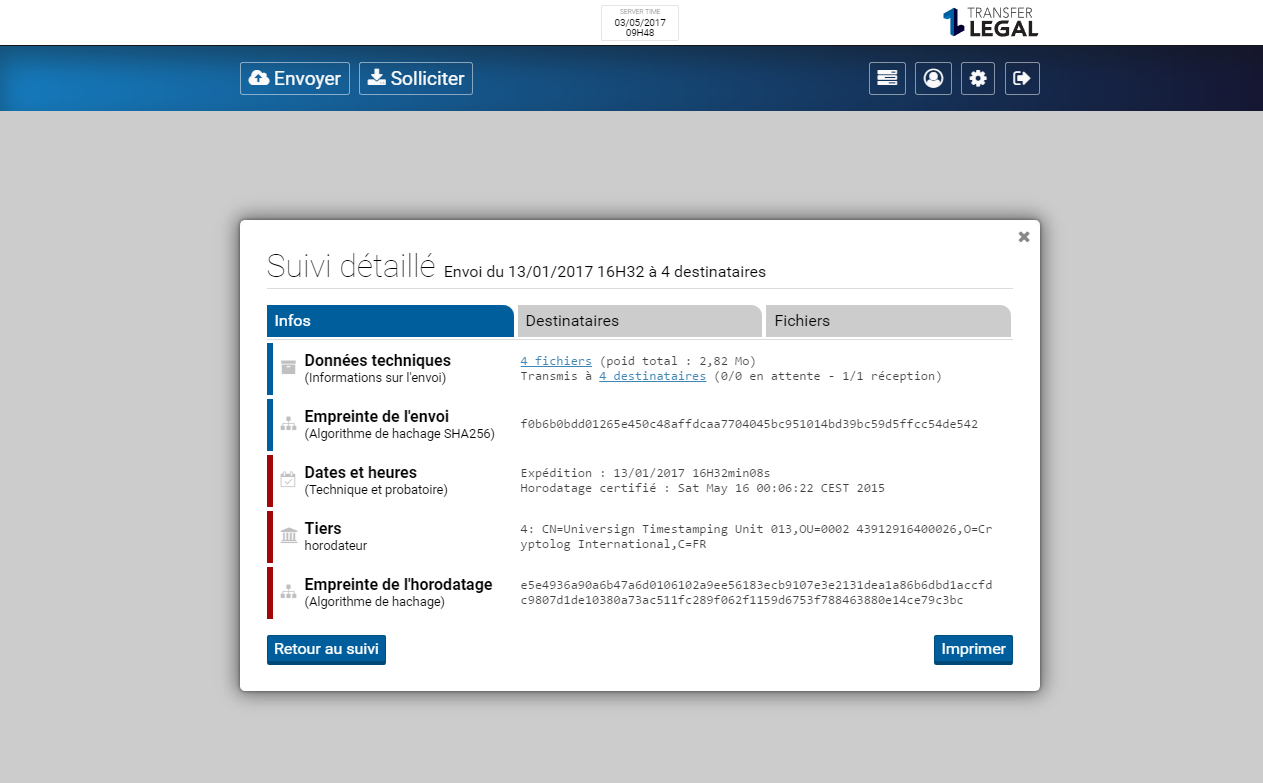 Trace your transactions
You must ensure that your recipient has received your data
When you wish to send important information to someone, it is critical to be sure that this person has received and read that information. In such a case, the acknowledgement message automatically sent by your mailbox is not sufficient. Depending on the chosen service level, Transfer.legal can provide a certified date of delivery and an electronic signature on a delivery receipt.
You must report important information to several persons
To prepare a meeting, you need to make sure that all participants have received your documents and that the latter were sent by yourself. You can send data to several recipients simultaneously and, thanks to different degrees of authenticated methods, you can track your sending and, if required, send a reminder to recipients.
Exchange very large files
You simply need to send a voluminous file? Rather than using file sharing services subject to foreign law that do not guarantee data confidentiality, you can simply use Transfer.legal that offers the same ease of use.
Manage compliance
You have to make requests for information as part of your agreements or because you work for a regulated sector?
Transfer.legal allows you to solicit file sending in optimal safety conditions. Transaction logging and legacy generated by the system are proofs of your actions and of your contacts 'answers.
You must deliver a work as part of a service provision?
You want to ensure of the date of data transmission and that the latter was well received by your recipient? You can indeed have obligations under a contract to send specific deliverables or you need a proof of the performance of a license or assignment agreement.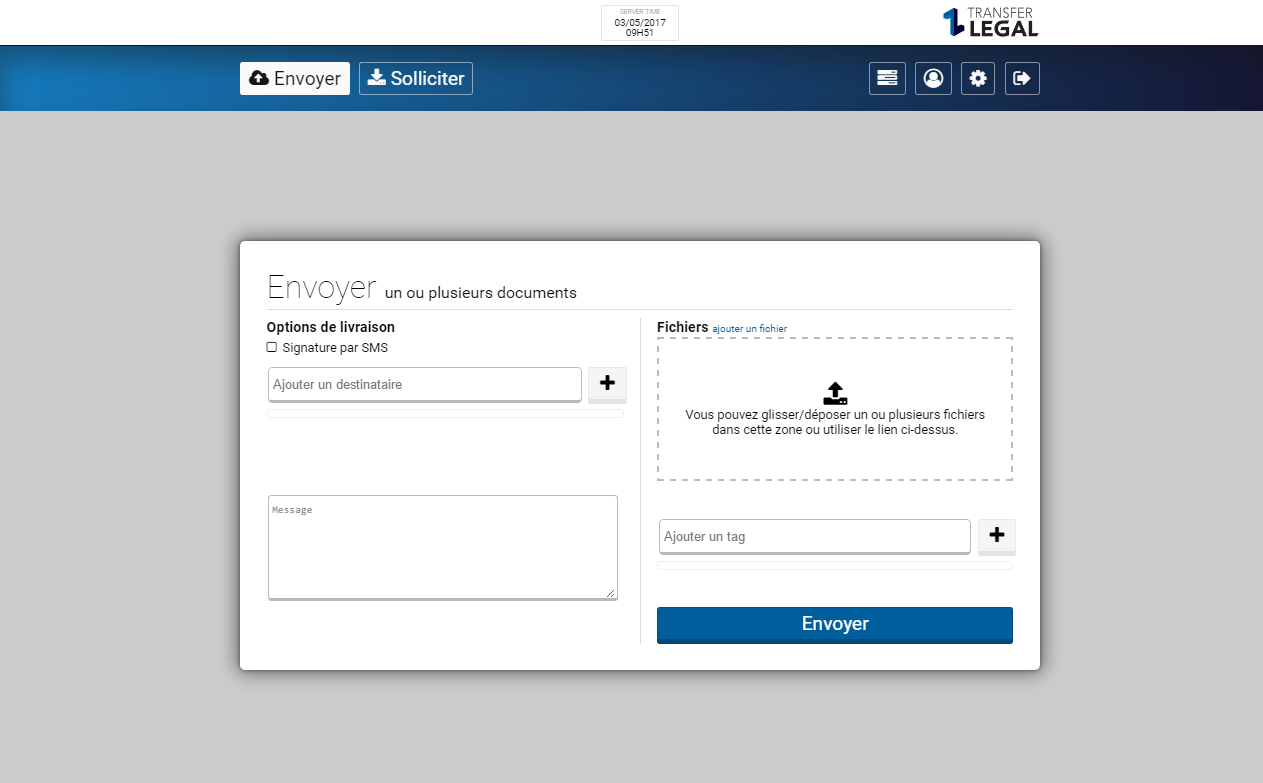 Evidence that you are the data owner
There is nothing simpler: you just have to send data to yourself by choosing certified timestamp service that will establish a specific date for the data and provide proof of its existence at this date.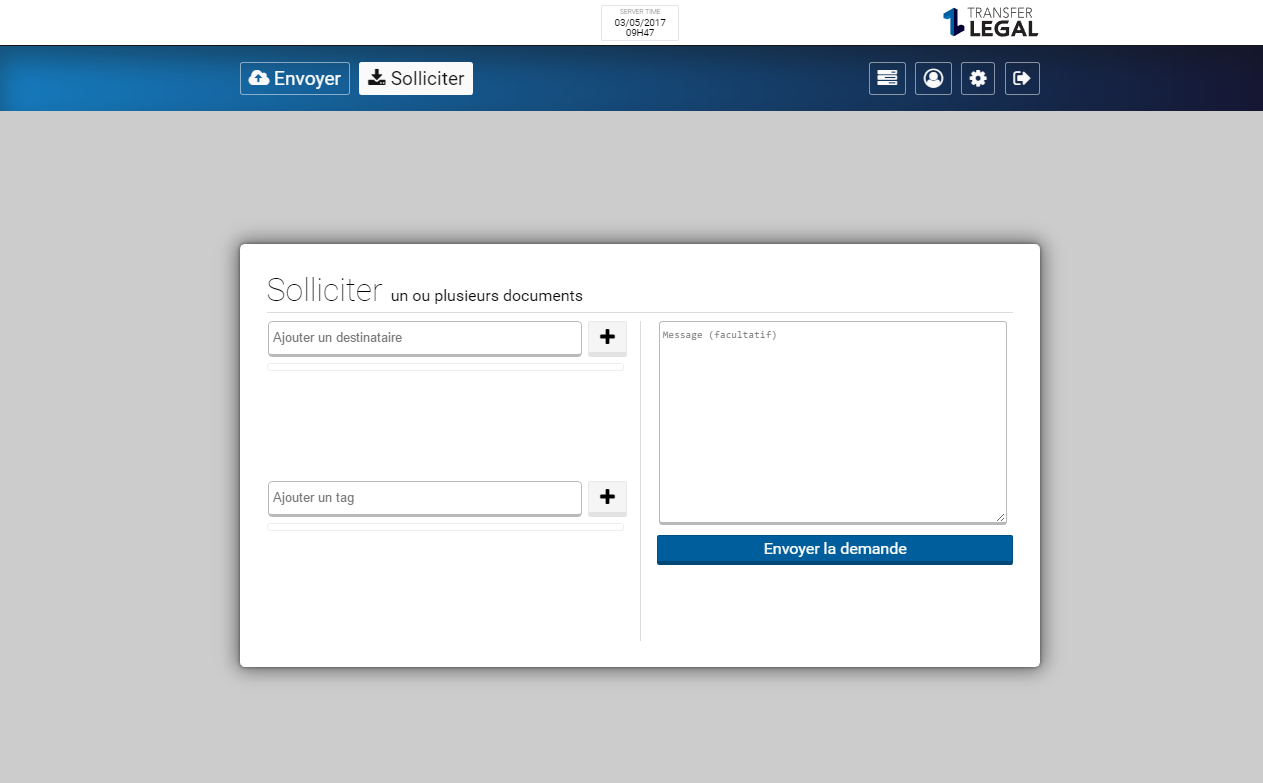 Ensure confidentiality
You are looking for a solution allowing the secure transmission of personal data?
Transfer.legal meets most of the requirements of national legislations on personal data.  We are available to discuss policies, standards and audits implemented in our solution.
You want to ensure confidentiality of data transferred and of your exchanges within the framework of a legal or financial transaction?
By chosen encryption of data both in transit and during storage, Transfer.legal offers you perfect confidentiality. Encryption is often difficult to implement due notably to heterogeneity of solutions that are complex to use. To achieve this, our service significantly simplifies your processes.
You are aware that documents that must be sent to you are confidential but your interlocutor is not using a reliable data transmission solution?
In such a case, Transfer.legal allows you to request secure file sending directly from your interlocutor in order to satisfy your data governance and quality requirements.